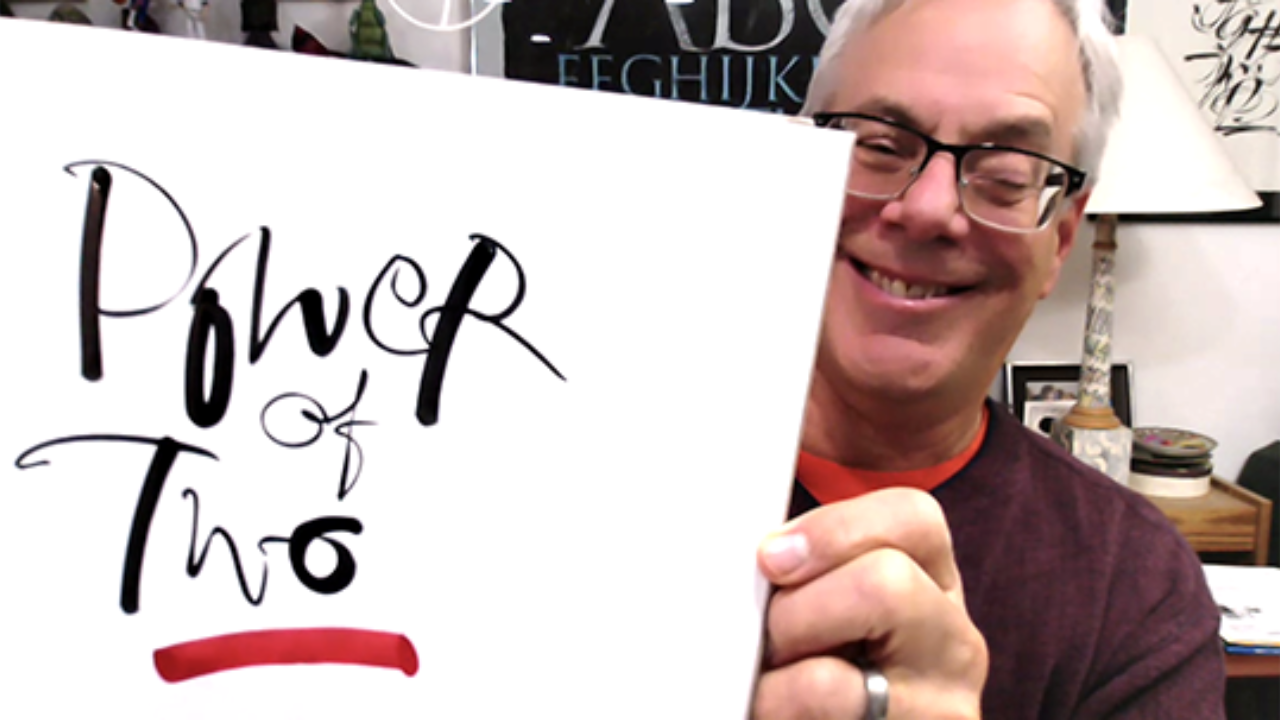 Whether you are a calligrapher who works small,
or a visual practitioner who works big,
we are coming together to do both.
BIG Fun! With the BigOne
Together we explore the Power of Two
with Mike Gold and Heather Leavitt Martinez

The recording from this live session is now available!
We have just a few dozen kits left!
Sign up today!
(scroll down)
What you get when you sign up
You can letter along with Mike and Heather using the same tools they will be using.
Upon registration, a packet of supplies will be sent to you that includes the following markers, sample papers, stickers and more!
NOTE: Only 100 markers kits will be created as part of this lesson. Supplies are limited.
If you are new to Neuland markers, this is a cost-effective way to get started. All Neuland markers are refillable, the nibs can be replaced, they are ergonomic, and they don't smell or bleed.
BigOne® Art marker
The largest brush nib marker in the world. Great for large-scale works, banners, signs, graphic capture, and more.
I will chose a popular color for you (may be different than what's pictured here).
BigOne® Art marker
You may fill this empty marker with your favorite ink. Comes with a refill/ink injector.
PRO TIP: Ink that works in a fountain pen will work great in this marker. Also holds walnut ink well.
FineOne® Flex
Get the finest lines with this exceptional, flexible nib. Perfect for sketchbooks, fine art, and everyday use.
Like all Neuland products, it's eco and ergo friendly. The nibs are replaceable and is refillable.
Whether you work big or small, chances are you have wondered what it's like to bridge the spectrum and do both.
In this lesson you will learn:
How to wield brush nib markers like a pro.
Mike Gold, master calligrapher, spent his career as a Senior Lettering Designer at American Greetings exploring what letters can do at all sizes: big and small. Adept at various mark-making tools, he creates masterpieces and often shares variations of an exercise called Power of Two in his contemporary calligraphy classes.
Heather Leavitt Martinez, visual practitioner and lettering artist, has been named the 'god parent' of the Neuland BigOne® Art marker and uses it in most all of her rapid capture work. She has designed and interpreted more than a dozen lettering styles that can be created with Neuland markers, most of which using the brush nib.
You will also learn how to:

Hold the markers to get the most variation of line,
Manage angle, trajectory, pressure, and speed,
Create works of art that you can give, share, and show off,
And finally get the most out of the largest and smallest brush nibs in the world.
Mike and Heather have been having fun since their one-and-only, in-person debut at Seattletters where Heather graphic recorded Mike's talk that was later published in Letter Arts Review. Since then, they have been crossing paths online in Zoom classes and workshops.

Fill your empty BigOne® Art marker with FUN!
Wondering what to fill your BigOne® Art marker with?
In this video, I will show you how to fill it and what I recommend filling it with and what inks to avoid.
For the calligraphers in the house...

Did you know that you can use well-diluted Bister inks and walnut ink IN your BigOne® Art marker? I recommend going with yellow or a very diluted color, then mix up some other colors to dip the nib into for gradients and other variations.
TOP 3 "real" reasons to sign up
You get cool stuff in the mail.
The cool stuff you get in the mail will be fun to play with as you try new things.
Did I mention you get cool stuff in the mail?
It's not everyday that Mike and Heather get together to make letters and have fun. Celebrate Ampersand day with them and celebrate the two things that go well together: Big and Small letters.
Together they're like...
Laurel & Hardy (funny)
Marlin & Dory (seeking adventure...ahem, while being lost most of the time)
Thelma & Louise (outrageous and brave)
peanut butter & jelly